Multi Champion. Crystal Di Casa Giardino
[Mitto Del Nasi x Giamor Di Casa Giardino]
WORLD DOG SHOW 2011, V2 CHAMPION CLASS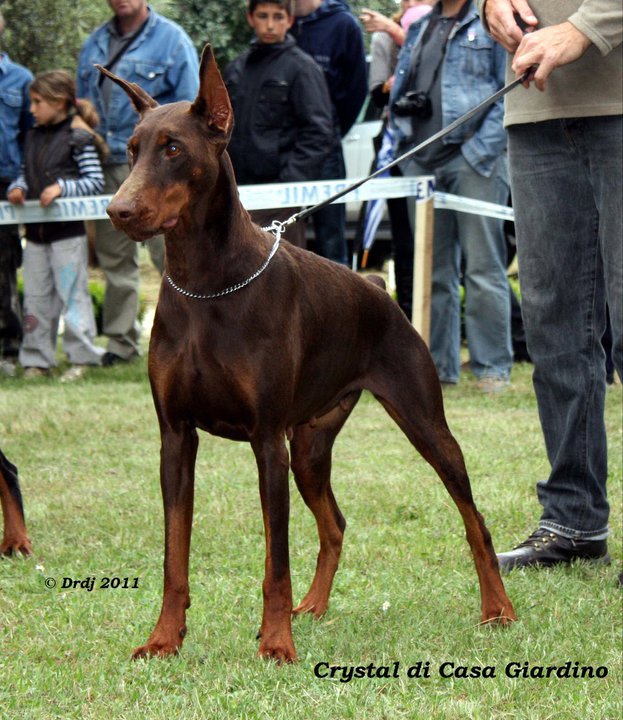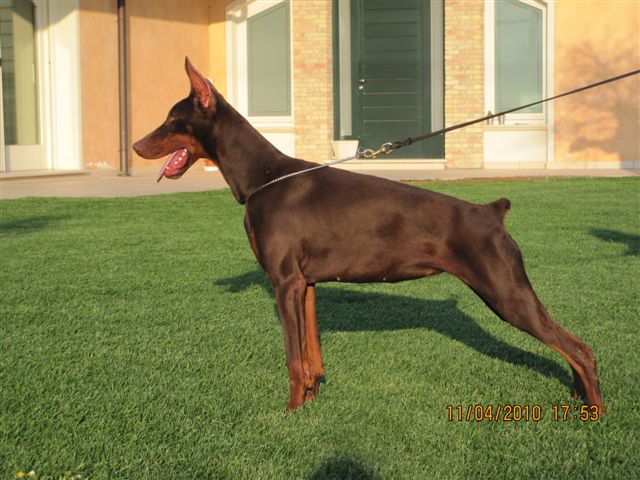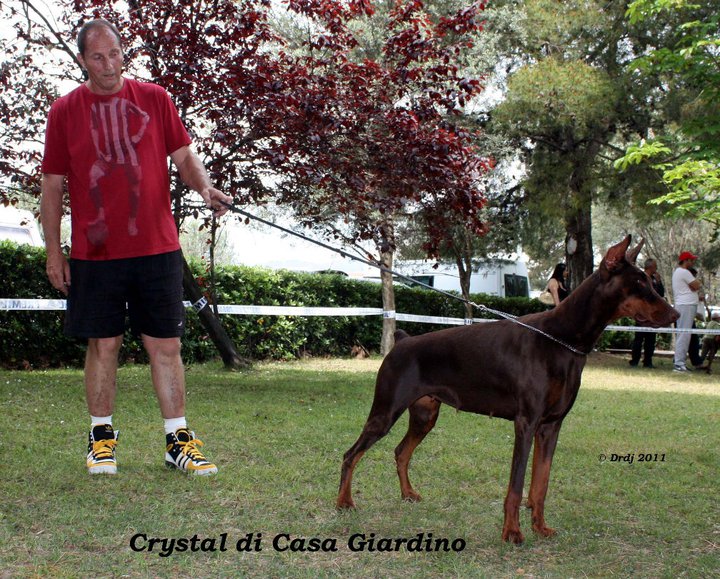 Champion of Montenegro,
Champion of Macaedonia,
Champion of Moldavia,
Champion of Bulgaria
Balkan Champion
Ex1 Champion Class Trofeo Triveneto 2011 Italy - Judge Joseph Bulo - 29th May 2011
Ex1 CACL Luxembourg Iternational 2011 - Judge Norbert Daube - 26th March 2011
Ex2 XIII Trofeo Caliandro 2011 Italy - Judge Erika Szokol - 30th Feb 2011
Ex4 Monographica Dobermann Club Espana - Judge Juan Neveda 2010
Ex1 Graz Winner Austria - Judge Nadija Timmermanns & Thomas Becht - 2010 -
EUROPEAN DOBERMANN TROPHY WINNER 2010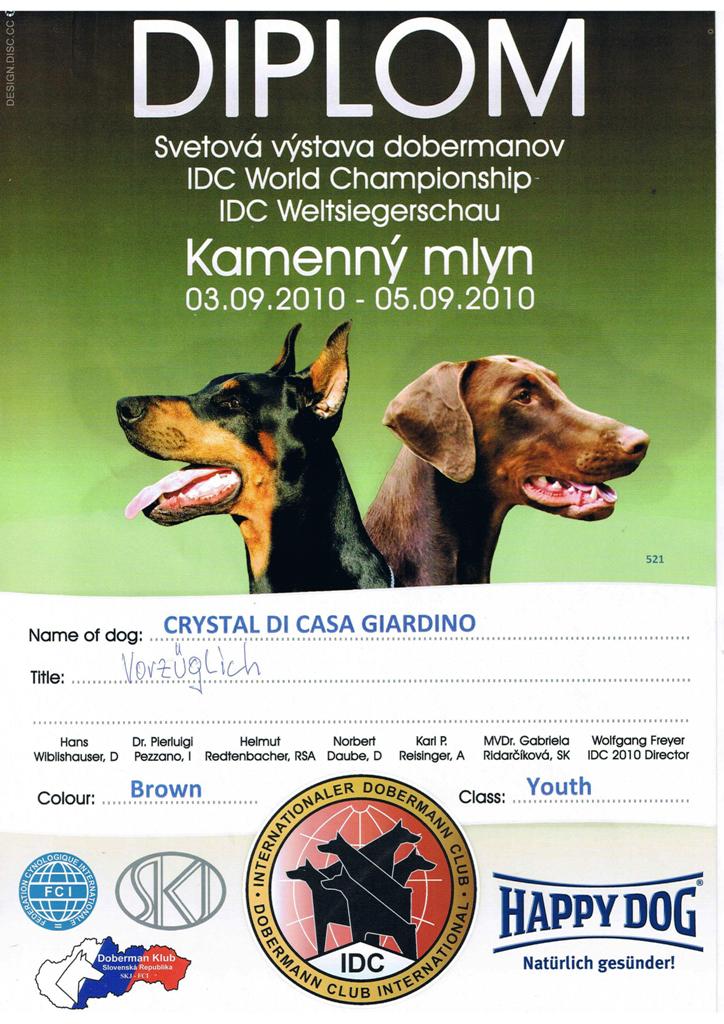 Champion. Attila Toscani Von Efranael
Ch. Igor Del Mediano x Desca Outrigers
Our darling girl!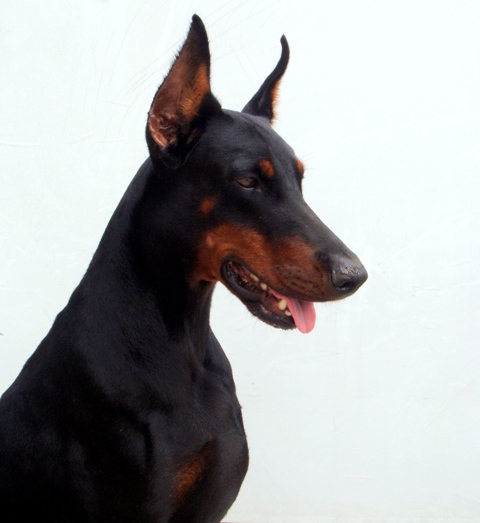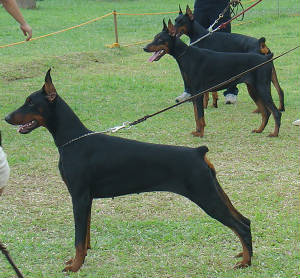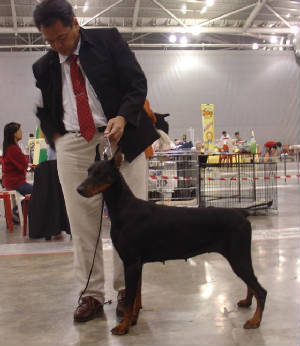 Attila, at 12months. Best Yearling in Group, SKC
She is the female we have been waiting for, the jewel in our lives. Attila is sired by Igor Del Mediano, and her dam is Desca Outrigers. In her pedigree are the top Yuog, Italian and Dutch bloodlines, and her quality is outstanding. Her character is remarkable, with plenty of drive and verve. Also very loving, playful and loyal. She is our 'Ferrari', and we look forward to many wonderful years ahead and for our breeding programme in Singapore.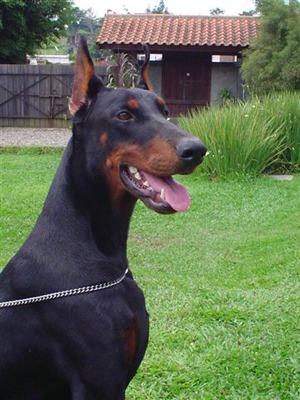 Attila, 8 mths. Head Study
PEDIGREE OF ATTILA TOSCANI:
Igor Del Mediano (Hongaria)

CH.Master Max of Djarmati

CH. Babilon Del Mediano

Gino Gomez Del Citone

CH.Tahi-Reme Wall

Honey Moon Woodoo Majesty

CH.Casanova Altobello

Anabel Tea Ginga House

CH.CAYA Della Baronessa

CH.Alfa Adelante Del Citone

INT.CH. Prinz v. Norden Stamm

INT.CH. Tequila Mali del Citone

INT.CH.Come As You Are Alabama

INT.CH. Baron Nike Renewal

Galaxy Gwendy

Desca Von Outrigers

Graaf Blutz V.Neerlands Stam

Graaf Vito V.Neerlands Stam

CH.Baron Bryan V.Harro's Berg

Gravin Isis V.Neerland Stam

Gravin Beauty V.Neerlands Stam

Graaf Xuvier V.Neerlands Stam

Gravin Hera V.Neerlands Stam

Cathy Von Outrigers

INA.CH.Graaf Ebo V.H. Laurent

Lord Bryan V.Haus Laurent

Bena Von B.O.D

INA.CH.Elite Von Cruff Country

INA.CH.Argos Von Haus Kirba

Zane Von Cruff Country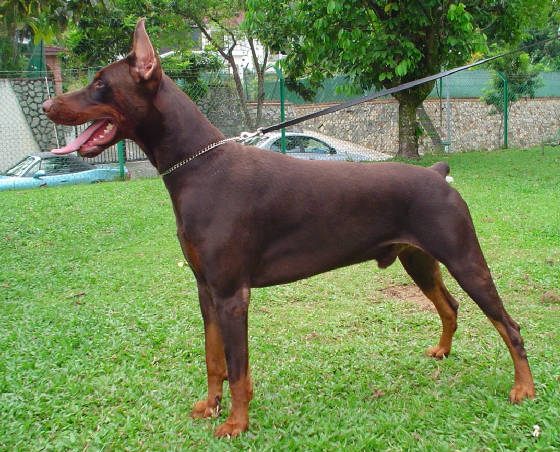 Harmonic Uno, 'BORIS'
Bilbao Dente Del Gigante x Anja Harmonic Von Rainbow
Whelped: 29 June 2004
Breeder: Dr Andi Hudono, Harmonic Kennel
Proud Owners: Kelvin and Nancy, Singapore
Boris is a wondeful red/tan Dobermann male with nice head structure. He's a laid back guy, sweet looking, and intensely loyal. He has won Best Puppy in Group, Best Dobermann Yearling, and Reserve Best of Breed. And he is simply endearing
He is sired by none other than Bilbao Dente Del Gigante
[Baron Nike Renewal and Ines Cobra]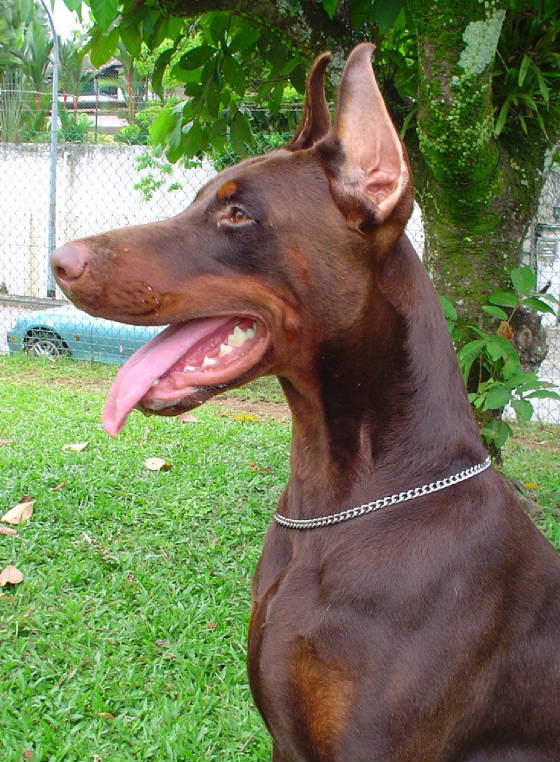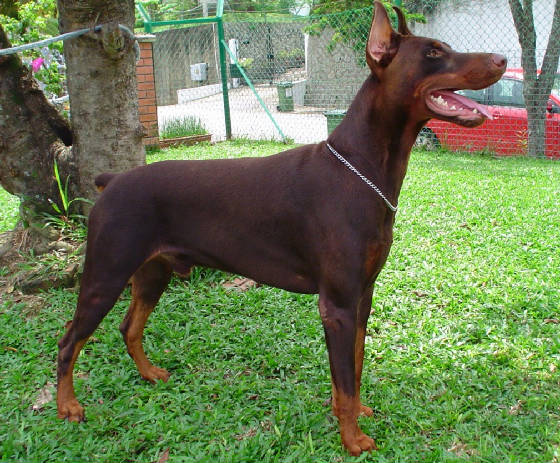 Igor Von Heisenberg "IGGY"
Whelped : March 28 2005
Breeder: Supar Cipto, Von Heisenberg
Proudly loved by the Guttulsrods!
Igor Von Heisenberg, or Iggy
Iggy is a special Dobermann. an outstanding Dobie.
He is also very intelligent, and takes to obedience training very fast. Indeed, he is also a real charmer, and loves people and children. Most importantly, he is a great family dog that gets plenty of love.
His father is Prestige De Grande Vinko. His mother is Harmonic Jenice, who is descended from the Franckenhorst Dobermanns, and also Harmonic Illka. Iggy is now living in Texas, USA, with his lving human fmaily.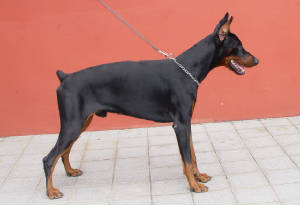 Igor, 14 mths
PEDIGREE OF IGOR VON HEISENBERG
DOB : 28 Maret 2005
Gender : Male
No tatto/ color : A54 Black Tan
Generation I
Generation II
Generation III
Generation IV
Prestige De Grande Vinko
Baron Nike Renewel
Prinz Norden Stamm
Quinn Dei Nobiliti Nati
Kastra Norden Stam
Borona Sawages
Graaf Festus V, Neerlandstam
Heidy Royal Bell
Grafinya Shanel San De Vinko
Mauvieres Mufasa De Stang Su
Gamon DiCampovalano
Gravin Nora V. Neerlandstam
Ak Yar Andromeda
Larson V Frankenland
Ak Yar Shagrelli
Harmonic's Jenice
Harmonic's Pele
Harmonic's Lenso
Galal V. Franckenhorst
Dunja V.Franckenhorst
Harmonic's Jilly
Fardek V. Franckenhorst
Harmonic's Cleopatra
Erin Von Rainbow
Harmonic's Uranus
Princefavlov V. 't Gronnigerlnd
Harmonic's Illka
Bella Von Kinder Dort
Varco Inter Amnes Tuta
Brenda Von Alvin Kennel