Charlo
The nicest and most loving Dobermann of Singapore!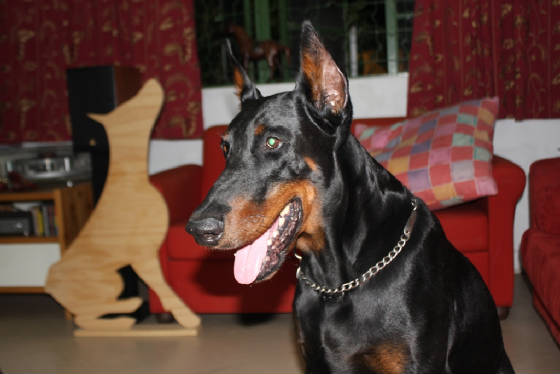 Charlo, our best friend.. at 9.5 years young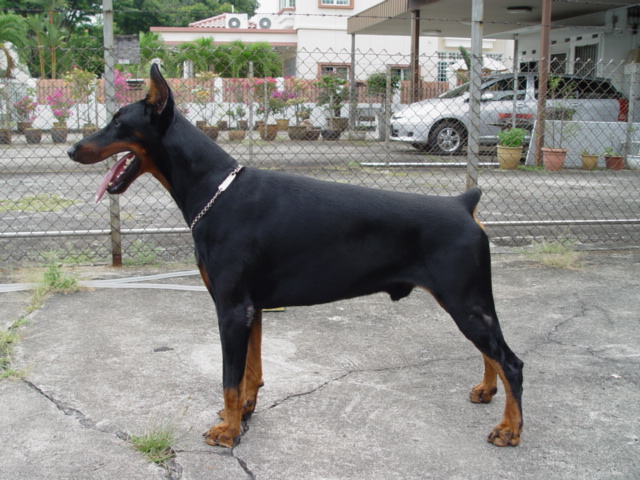 Charlo at 7 years
Charlo, at 8.5 years
Charlo at 4 years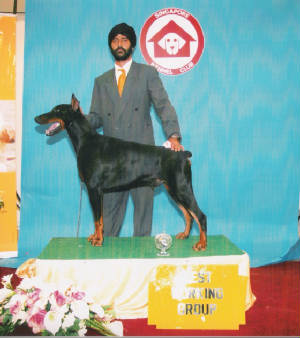 Singapore, Indonesian Champion
Charlo Von Chucky Kennel
Sire: Agilo Von Idelia
Dam: Prince Von Ratu Indah
Whelped: 13 May 2001
Breeder: Dr Victor and Nanny Halimah Mulder
SINGAPORE KENNEL CLUB [SKC] :
Multiple First Open Dog, Best of Breed, Reserve Working Group
Asian Kennel Union Championship :
First Open Dog, Best of Breed, Reserve Working Group Winner 2005/06/07. AKU Award x 2
Klub Dobermann Indonesia [KDI] -
Multiple BOB, CC, CAC, CACIB, DOBERMANN OF THE YEAR #5 2004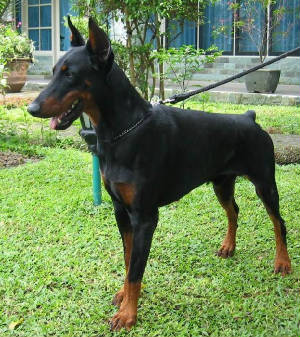 Charlo at 20 mths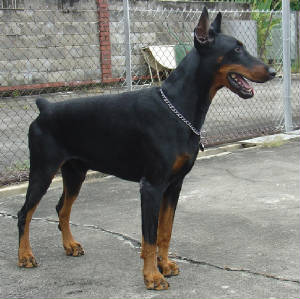 Charlo at 6 years
Charlo is a solid male, muscular, powerful, with good substance, bone and size. He is medium built at 70cm and around 40kg, with a very excellent coat and nice markings. He loves to run, and can reach top speeds of over 60km/h! He is layful, fit and healthy and always looks younger
He loves people and kids, and soaks up attention and love. He is a charmer, and loves to be indulged and played with. He likes being touched, hugged and held... just like a typical dobie! He is great with kids and families, though cats and aggressive dogs are a big no-no! And boy, does he hate to swim in the sea!
Charlo has done well in the Dobermann speciality and multi-breed showrings, even under top International Dobermann judges. Today, he is a family dog, who is occasionally shown, but more of a companion and guardian. He's a solid fellow with a heart of gold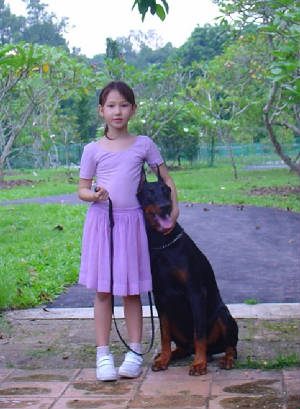 Charlo and his biggest fan! Our Dobermanns are excellent with kids.
Charlo donating blood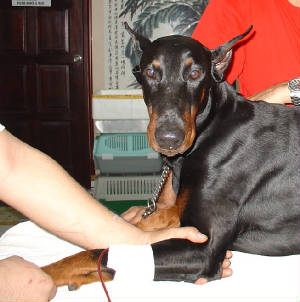 Please be a donor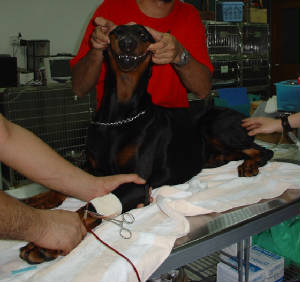 Smile, as we draw your blood out!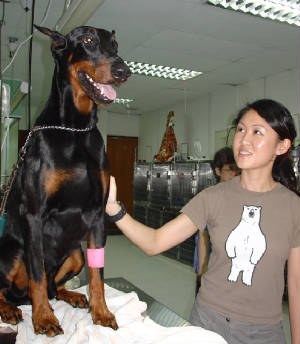 Charlo and Irene.. see the pink bandage!
Charlo donated his blood to help try save the life of a Collie dog named Jack, who needed a blood transfusion. Charlo's blood type matched his, and we were able to help. But unfortunately, Jack eventually did not make it. We are sorry for his demise, but plead to others to help donate their dog's blood.
Here is Charlo after giving blood, with Jack's friend, Irene. All smiles again! He does us proud